Join Luke and Jill as we host our first live cookalong with three amazing recipes to follow.
Twice a year at Counter Interiors we host our demonstration days. This gives you a chance to view our NEFF ovens, hobs and other appliances in action with the added bonus of some great food to try throughout the day.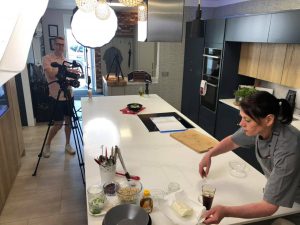 Unfortunately due to the current guidelines on social distancing and non-essential travel we are unable to host our usual NEFF Live Cooking event in the showroom. Therefore we brought in Allan Scott Photography, lots of recording equipment and took the NEFF event online.
If you visited us at CountryFile Live 2019, you will have seen Jill Weatherburn on our stand baking tear and share bread and delicious cakes. Throughout the show Jill and her "kitchen fairy" managed to complete over 50 flawless demonstrations!
This time we have three recipes for you to follow along with, you can pause and rewind as often as you like. If you prefer the written option then we have created more unique recipe cards for your collection. Join our demonstration events and complete the set, email in for more details.
You can rewatch the entire NEFF Live Cooking Event as it happened below.
Download the Recipe Cards
Don't forget to check our our other recipes, Halloumi Fries with Beef Tzatziki and Lemon Drizzle Cake.
We'd love for you to visit, we are in the middle of Clifton Moor in front of First Fitness. Use YO30 4RA for your Satellite Navigation or give us a call on 01904 479 792.
Comments