York's Trusted Kitchen Experts
Discover beautiful British and German kitchens designed and installed to the highest standards by your trusted, family-run team of experts.
Over 20 years of excellence...
Our experienced family-run team have been bringing outstanding kitchens to clients throughout North Yorkshire for over 20 years. As a small independent company, we take great pride in staying true to our traditional values.
Our continued commitment to delivering superb products and exceptional service has earned us an impeccable reputation which you'll find reflected in our glowing reviews. From your first design appointment to the day you sign off your kitchen, we make it our mission to ensure everything about your experience exceeds your expectations.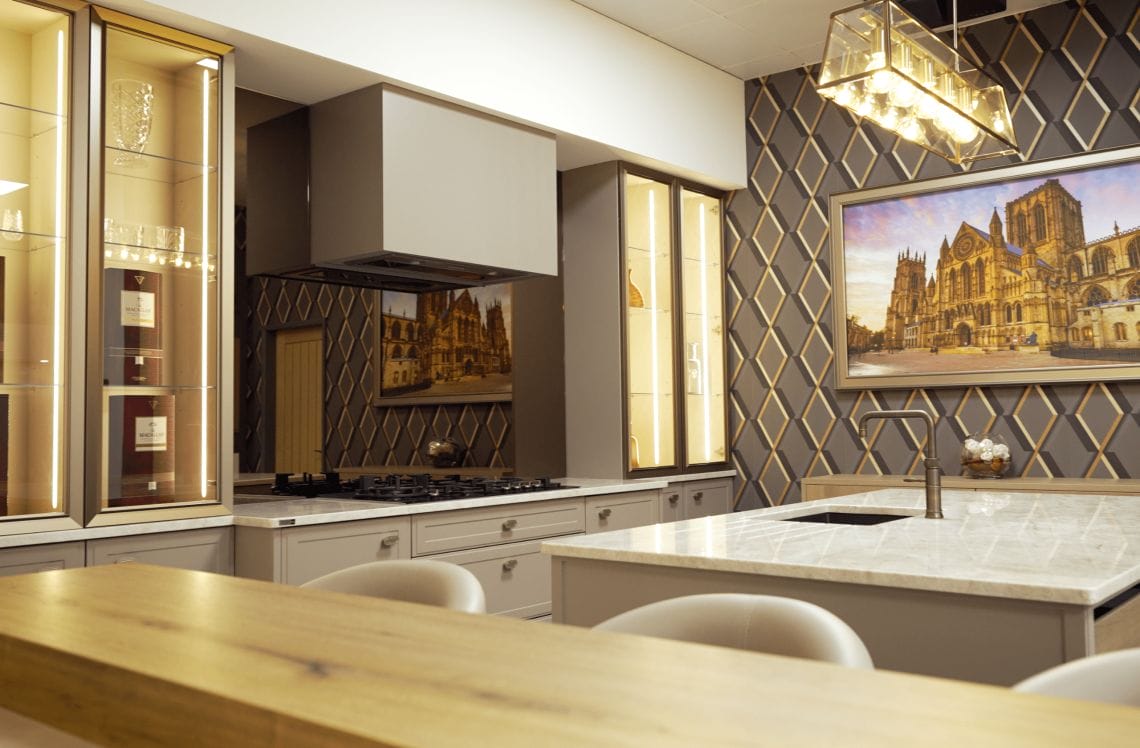 Earning Numerous Awards & Accolades
Transforming tired kitchens into beautiful and versatile spaces befitting the heart of our client's homes is a magical process. And, here at Counter Interiors, we never tire of a new challenge. We're incredibly passionate about what we do and aren't content with settling for anything but the best. Our determination to excel has earned us a number of awards and accolades. We have won three fantastic NEFF MasterPartner awards, including Best Showroom and Best Kitchen Design under £25k. We have also been featured on Cosentino's Honours List for two years running.
Our Stunning York Showroom
We couldn't be more proud of our stunning York showroom. Showcasing a breath-taking collection of British and German kitchens, our award-winning studio is the perfect place to find inspiration for your upcoming project.
Our trusted partners have installed all our elegant displays with the same meticulous care and attention to detail they dedicate to all their work. Thus, visiting our showroom is a great way to get a feel for the kind of quality, style and practicality you can expect us to bring to your home.
looking for a little more inspiration?
Kitchens have become one of the most versatile rooms in our home. Thus, creating a space that captures your personality while meeting your daily needs has never been more important. If you're unsure where to begin, why not start by downloading our brochure to explore the stunning designs and ingenious practical features we have to offer?
Meet the wonderful team responsible for making our fantastic service possible. Headed up by husband-and-wife duo Luke and Rebecca, Counter Interiors are one of York's leading independent kitchen specialists. Our determination to maintain the highest standards without compromising our friendly, can-do attitude has helped us build many great relationships with our Yorkshire clients. With more than 20 years of experience under our belts, there's no one better placed to help you transform your home. Our highly trained and experienced team have all the skills required to help you bring your vision to life from design to installation. If you'd like to have a chat with one of our helpful experts, we'd love to hear from you. Please click the button below to get in touch.
We know how important your home is to you. And that's why we'll take as much time as needed to ensure your design is just right. To arrange a relaxed, no-obligation appointment to discuss your ideas with our expert team, please click the button below.