Neff N90 Collection or Siemens studioLine. We offer both, but which one is right for your kitchen?
Counter Interiors are dedicated retailers for Neff and Siemens appliances. Two huge brands in the kitchen appliances market, both with great acclaim.
Neff is the preferred appliance on the Great British Bake Off as well as being voted a 'CoolBrand®' for two years running.
CoolBrands is a listing of the UK's coolest brands, published annually since 2001. Brands do not pay or apply to be considered.

The brands are independently chosen by the CoolBrands Council and the British public.
Siemens are well known in the appliance market, being a leading manufacturer of consumer electronics for over 100 years, this global company is renowned for their sleek designs and unique innovations in almost every corner of the electronics market. From washing machines to cinema systems, lighting, heating and automation systems, Siemens has done it all.
Our clients often ask us "which brand is the best for me?", the answer always being "it depends on your needs and requirements".
Both Neff and Siemens offer a huge range of features on their appliances, some overlap and some are exclusive to each manufacturer. There is a simple reason for the overlap; both Neff and Siemens are part of the same group, owned alongside a third well known home appliance manufacturer, Bosch. Whilst a few internal parts and ideas are common across the brands, aesthetics and features vary greatly.
Smart Home

Both Neff and Siemens use the Home Connect service to link your smartphone to your appliance. Programs and functions on your appliance are then accessed through the Home Connect application on your mobile device available on iOS or Android.
Want Sunday lunch ready when you get home? Program the oven with a specified program at a preset time using the app and receive notifications to your mobile device when it runs or finishes. Create a playlist of drinks for the coffee machine and the machine will serve them up one after the other. Try specialist coffees from around the world which are only available in the app, you can't select these from the appliances built in menus.
Smart homes are the future and modern technology is fast becoming an addition to the new home buyers wish list. There is no nicer feeling than coming back to a home full of light and warmth, knowing you haven't wasted energy by leaving them on all day. Your home uses your phone to know when you're close by then sets your predefined procedures into motion.
Until recently thought of as an 'expensive gimmick' the Smart Home is now becoming a must have. Recent developments have brought these ultimate time saving gadgets to everyone's home. You can even keep your existing devices installed in your home and make them 'smart'. No more multiple hubs for heating, lighting or voice control.
If the SmartHome concept appeals to you, then both range of appliances now offer this new technology. Link your fridge to your shopping list or your coffee centre to your schedule. We can help you automate your kitchen as easily as the rest of your home. Drop into our showroom to see our SmartHome setup and speak to our designers about upgrading your home.
Get Creative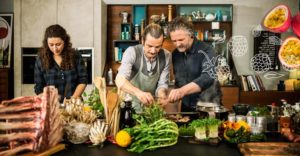 Neff are an instantly recognisable brand, their reliable appliances regularly feature on popular cooking programs such as Saturday Morning Live or Great British Bake Off and with good reason; Neff ovens deliver consistent dependable results, consistency being a fairly essential element when comparing competitors creations.
Neff's entire focus is aimed squarely at the 'Cookaholic' of the family. Those budding chefs and bakers who thrive in culinary chaos, yet somehow end up with something incredibly tasty. Unique innovations such as the ever popular Slide&Hide feature are indicative of the brands desire to get you closer to your cooking.
The inbuilt recipe menu is pretty extensive and all single ovens come with a recipe book tailored to your specific model so you won't be running short of new ideas any time soon. The whole experience is hands on, encouraging our aspiring home chefs to get stuck in and immerse themselves in the smells and wonders of their latest gourmet masterpiece.
Neff chefs make a lot of mess and it's usually good to keep on top of that as you go along. Our Neff dishwashers conveniently shine the current program and time left to run onto the floor so you'll never run out of cookware at the wrong moment again. Incorporate smart features into your kitchen without losing the creativity.
Lifestyle Choices
As you can see, it really is down to you. Do you prefer the hands on approach or would you prefer to choose your meal in an app and let the technology do the work.
Both our Neff and Siemens appliances are Wi-Fi enable and will provide you with consistent and reliable results which ever way you choose to use them.
To make a more informed decision we highly recommend you attend at least one of our Neff or Siemens live cooking events. Watch our professional chef demonstrate the slightly different cooking styles and adjust to the different features offered by both manufacturers. Keep an eye on our Facebook page for future events. They've always been a great success and we're all hoping to get back to normal soon and get cooking again!
For any advice or information, drop into the showroom. You'll find us on Clifton Moor at 8 Audax Close, York, YO30 4RA or give us a call on 01904 917 694.
Post updates
This article has been updated as of the 27th Jan 2021 to reflect the addition of Home Connect to NEFF appliances. Both Siemens and NEFF now offer Smart appliances, so now the decision is more centered around your choice of style and aesthetics without having to compromise on features.