Exclusive to NEFF 5* MasterPartners, the new Neff Collection is due to launch very soon!
Do we have something special in the pipeline for you! A brand new suite of appliances exclusive to NEFF MasterPartners. A dramatic new aesthetic is splashed across some very special appliances not available in the standard NEFF ranges.
We introduce the new luxury range of kitchen appliances "The NEFF Collection" adorned with a dark new graphite grey trim and an eye watering feature list that combines the very best features from the N70 & N90 suites and wraps them up into a stunning, sky's the limit package.
Extraction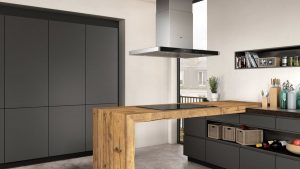 Let's start with Downdrafts, we think they're pretty cool appliances and currently have one on display. Hiding away in worktops you'd never know they were there, splash proof and unobtrusive they offer an easy to clean minimalist look to your kitchen. They're easy to install too, there's no need to start drilling into your ceiling or suspending overhead extractors. Worktop holes will come pre cut from the stone merchants so it's just a case of dropping it into the worktop and plugging it in. You often lose space in the cupboard beneath if you install it into a standard depth cabinet.
To solve that issue most people install their downdraft in a deep island where there is space to fit the appliance between the backs of the cabinets thus not losing any storage space. A simple solution that also gains you more worktop space. A lot of kitchen manufacturers now offer extra deep cabinets built with these kinds of appliances in mind. Perfect for using your downdraft against a wall run which also allows you to vent your extraction straight outside.
There's a lot to like about the downdraft, a touch of a button and it glides into view with quite the flourish, lights illuminate, start up tones chime, extraction starts; all your guests want one.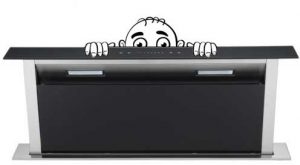 There is however, one slight issue when installing a downdraft in an island…
If, like me, you're a little bit vertically challenged then you may as well just build a partition wall between yourself and the rest of the kitchen. For the majority of people this will never be an issue though it is something to take into consideration if you're a little on the short side. Hidden away they are very stylish the open and close movement is silently luxurious and definitely a statement. In full view and running they can get in the way of a conversation somewhat, which is why they were designed to be hidden in the first place.
Or at least they were, until now…
What if we could take the downdraft extractor and make it….. disappear?
Then let's define the edges with some RGB lighting, using the app gives you a choice of around 16 million colours to find the perfect ambience for your mood, though we do love the red. Add in Wifi, HomeConnect, a stunning raise and lower movement, Climate Sensors and serviceable filters which also rise up from the worktop for easy removal and cleaning. What we get is the new Glass Downdraft, part of the new NEFF Collection. A truly stunning appliance.
Available in two sizes to suit 800mm or 900mm hobs both models come with touch controls, 5 power levels with intensive settings, seamless installation and Neff CleanAir Plus technology.
This is a daring release for NEFF, usually the go to appliance for those who enjoy a traditional style. Incorporating Graphite and Glass into their design catapults their aesthetic firmly into modern times however retains enough charm to appeal to their loyal and adoring Great British Bake Off/Cookaholic fan base.
Wine Coolers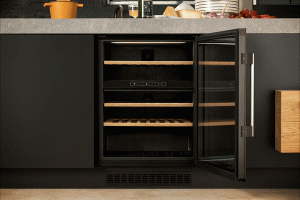 Finally! We can now offer wine storage and cooling that coordinates with the rest of your appliances. Up until now, NEFF have been unusually quiet on the wine cooling front, an odd omission for a luxury CoolBrand® that seems keen to zone in on the social aspect of our culinary lives. However, they have arrived and look absolutely stunning in the matching Graphite Grey trim. Wooden internal shelving, frameless glass and touch panel controls give these wine coolers a real touch of class.
Red or White it doesn't matter, the new wine cooling from The NEFF Collection come with dual cooling zones to keep your wine at the perfect temperature. Show off your unique collection with soft interior lighting that casts a gentle glow over the bottles. Wine has been a valuable commodity for a while and is becoming popular with investors. If you're collecting wine then proper long term storage is paramount. Secure the future of your investment with professional wine cooling technology.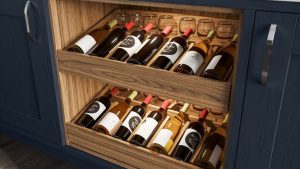 Prefer to drink your wines? Then create a bespoke wine display area with The NEFF Collection wine coolers and our Masterclass Kitchens wine display drawers. Available in Portland Oak or Tuscan Walnut, we think these open drawers would be a fantastic addition to a Signature Edition Cocktail cabinet, and NEFF Collection dual zone wine coolers.
Luxury never looked so good.
Dishwashers and that Graphite Grey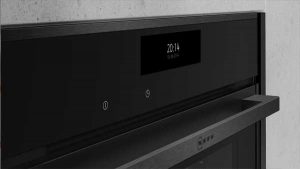 Picking through all the highlights from the new NEFF Collection would require an entire brochure, fortunately we have one for you at the end of this article! However we couldn't let you leave without showing off the stunning new trim and mentioning a little bit about the new dishwasher technology.
First up is the new Graphite trim, a dark grey brushed effect which is applied to all the stainless steel found on none 'NEFF Collection' models. The modern, contemporary style is carried across the entire range of appliances in the flagship NEFF Collection including the new wine coolers, coffee centres and dishwasher trims. We think this offers a stunning alternative the the usual range of stainless steel decorated appliances adding a darker and more dramatic look to your style. Combine with ambient lighting and smart technology and your kitchen will be one of envy.
Last but not least, dishwashers. It's always been a bit tricky to get excited about dishwashers, they're often hidden behind a door so don't really make any sort of visual impact on your design however, they do have a few little tricks hidden away.
First up is the new Gap Light, this small LED is located in the seam between the door and cabinet and illuminates whilst the device is in operation. These dishwashers are extremely quiet, it's very easy to think it's finished and open the door mid cycle! Hot water, mayhem, burny chaos all solved with simple light which looks stunningly effective too. Other features include taller drawer sides for larger plates, flex drawers for multiple placements and another new feature, Open Dry. Open Dry pops open the dishwasher door ever so slightly on completion of its cycle. This not only allows for more efficient drying, but also lets you know your dishwasher has definitely finished this time. Check out the quick video below for all the dishwashing features you could wish for.
Once again, thank you for reading along, we hope the new releases spark some amazing ideas and we'd love to work with you on those. Feel free to call the showroom or make an appointment to come and visit us (covid allowing of course) We aim to reopen our doors at the beginning of April should the guidelines remain as they are.
Stay safe everyone and happy cooking!