Claim your FREE griddle plate or teppan yaki for your induction hob when you purchase any NEFF Vented Hob
This Autumn claim your free complimentary Teppan Yaki and Griddle Plates at Counter Interiors when purchasing a Vented Hob.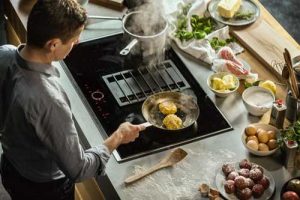 Vented Hobs are becoming the go to style of hob when it comes to saving space in your kitchen, the unique design allows for installation almost anywhere in your design.
With traditional hobs separate extraction must be considered, this is usually an over head style extractor which are available in many different types from stylish to completely hidden away. Alternatives include the popular downdraft extractor which is installed behind the hob. This requires your layout to allow space behind the hob, therefor extra deep cabinets are required.
The Vented style hobs are an excellent solution for clean, uncluttered installations where overhead extraction isn't possible and downdraft extractors are not the preferred option. Island units with high ceilings are especially suited to vented hobs giving you all the headroom with none of the issues.
This Autumn we are giving away two excellent accessories with selected vented hobs including a Griddle Pan and a Teppan Yaki Plate. Both accessories proved very popular at our latest cooking demonstration with a number of visitors to the event requesting them on the day.
Expand your cooking capabilities with these excellent accessories usually priced at £258 for the pair. View the complete terms and conditions below.


NEFF Complimentary Teppanyaki and Griddle plate promotion
Terms and conditions 1st September 2019 to 30th November 2019
Available from 1st September 2019 until 30th November 2019.
In order to qualify for the complimentary accessories, a NEFF T58TS6BN0 Venting Hob must be purchased from a participating UK Kitchen specialist.
The Teppanyaki and Griddle plates shown are for illustration purposes only and actual items supplied may vary.
Offer only available in-store at participating UK kitchen specialists.
Claims must be made directly to participating retailers.
Complimentary Teppanyaki and Griddle plate will be supplied by the retailer at time of hob delivery.
Graded/seconds/replacement/ imperfect products and trade/contract sales are excluded.
The Promoter reserves the right to provide a substitute gift of equivalent quality and price in the event of unavailability of the Gift.
Please note that there is no cash alternative to the Gift.
By submitting an order, purchasers agree to be bound by these terms and conditions.
This offer is only valid on kitchen purchases, including kitchen furniture and appliances, all from the same retailer.
The Promoter/Data Controller is NEFF, a division of BSH Home Appliances Limited, a company registered in England and Wales under company registration number 01844007 with registered office at Grand Union House, Old Wolverton Road, Wolverton, Milton Keynes, MK12 5PT, United
Kingdom.