Siemens 5* IQ Design Studio
THE FUTURE MOVING IN
Sophisticated design meets cutting-edge technology for the ultimate kitchen statement
The inspiring studioLine range combines refined design with advanced technology and a perfectly intuitive user interface to exceed expectation. A complete kitchen range that is more than just highly functional equipment – it forms part of an ambitious lifestyle and an expression of individuality. studioLine appliances are created for those who are not satisfied with the ordinary and want to set themselves apart from everyday standards.
Impressive award-winning design from every angle
With beautiful clear lines and darkSteel design resulting in architectural clarity, studioLine appliances are designed to seamlessly integrate with cutting-edge kitchen designs and materials. Harmoniously combining form with function, all appliances are crafted from state-of-the-art materials and build techniques and feature incredible innovations for the ultimate experience.
Redefining kitchen standards
studioLine is defined by striking features and details which are only available in this exclusive range of built-in appliances. Uniting elegant and pure design language that stands the test of time. With advanced engineering studioLine delivers the perfect blend of flexibility, convenience and precision to bring your kitchen to new heights. Discover how innovative, intelligent Siemens built-in appliances will help you save time, experience great taste and suit your personal style.

The perfect line up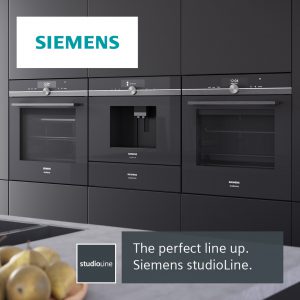 Ovens, compact appliances and warming drawers all line up thanks to coordinated front panels. Even hobs and hoods adhere to the same design aesthetic to create a guaranteed design statement. Behind the look there is substance too, with Wi-Fi enabled Home Connect functionality, stainless steel handles, disc controls and larger, brighter TFT touch displays.
Counter Interiors are York's 5* IQ Design Studio where you will discover the flagship studioLine range by Siemens.
Siemens IQ Studio retailers are regularly trained in all the latest appliances and technology to give you the best experience possible. Come and check out our Siemens aCool refrigeration display or the new glassdraftAir Siemens worktop integrated extractor fully working for you to try hands on before making any decisions on what is right for you. Our friendly and helpful staff are always on hand to talk you through the best options for your style of cooking.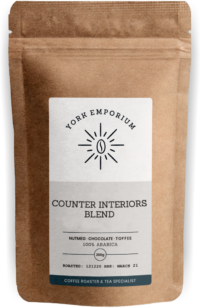 locally roasted coffee
Our bean to cup coffee centres now come with a free six month subscription package worth over £160 from York Coffee Emporium the Coffee Roasters and Tea Specialists. Your subscription will include two bags of freshly roasted coffee delivered to your doorstep each month from the Roaster's Choice Coffee Subscription. There are no repeated flavours so you'll get to try 12 different coffees from around the world, completely free!
Discover your favourite flavour with our free six months subscription.