Home Connect
Connected appliances, smart heating and lighting, voice control and location aware. We'll help you create your perfect Smart Home.
Welcome to the smart world that is developing around us. Technology is assisting us in every part of our lives; shopping, paying the bills, interacting with friends and now controlling our homes there is no limit to where the smart revolution could take us. At our kitchen showroom in York we have a range of connected devices and smart gadgets controlling the studio, visit us and discover voice controlled lighting, automated heating schedules, home security and time saving convenience all managed through your smartphone or pc. The best part, we only use one manufacturer to control our entire showroom. It's time to ditch multiple hubs and bridges and control your whole home through one app.
Cooking and Baking
Our NEFF and Siemens appliances come with Home Connect, the link between your phone and your kitchen. Remote start and stop, change settings and learn about your appliance with integrated instruction manuals. Never lose your manual again as it is accessible through the app as are model and serial numbers should you require any support. Discover new recipes and seasonal offerings with ingredient lists, send the correct settings over to your appliance and cook up great food easily.
Not only are the day to day applications of Home Connect saving you time, but our remote diagnostics can also save you money. Allow access to our technicians to remotely diagnose your appliance from the office before an engineer is called out. If a fix is required onsite the engineer will already know the fault and even which parts to bring.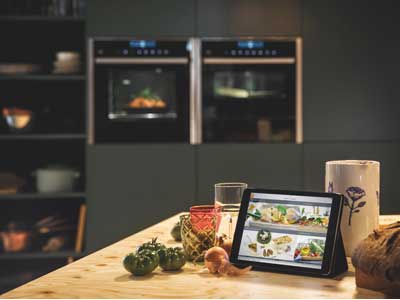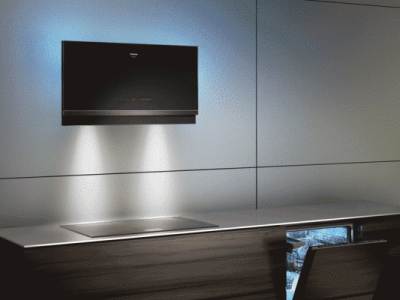 MAKING USEFULNESS FUN
Home Connect is now available across all of our appliances. Our extractors will notify you when your filters need cleaning, changing or regenerating. You can alter the lighting effects from ambient whites to full spectrum RGB to set the perfect tone for your valentines meal or make it spooky for halloween, RGB lighting brings a new and fun dimension to your creative space.
Using technologies such as If This Then That (IFTT) you can link different functions and actions. Turn your extractor lights red when the filters need changing, turn your hallway light on when someone rings the doorbell. The only limit is your imagination.
CONTROLLING YOUR HOME
Through our smart home partners we are able to seamlessly connect your entire home through a single hub. Using our expandable mini servers our Home Automation systems are second to none. Use your smartphone or pc to control:
Lights
Roller doors/Garage doors
Heating
Music & Entertainment
Curtains & Blinds
Any device in your home with an on/off switch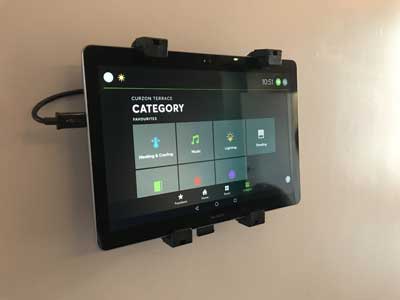 Videos and Media
Watch the videos or download our brochures for all you need on Home Connect
Need help connecting? Try the videos below for all our NEFF and Siemens smart appliances set up for Home Connect. Link your Home Connect account with Amazon and Alexa for auto replenishing of essentials and voice control.
You will need the apps listed below
| Apple | Android |
| --- | --- |
| Home Connect | Home Connect |
| | |
| Alexa | Alexa |
| | |
NEFF Home Connect Videos
Connect Your NEFF Dishwasher
Connect Your NEFF Fridge Freezer
Connect Your NEFF Coffee Machine
Siemens Home Connect Videos
Connect Your Siemens Oven
Connect Your Siemens Hood
Connect Your Siemens Dishwasher
Connect Your Siemens Fridge
Connect Your Siemens Washing Machine
Amazon Alexa Videos
Surviving Monday Mornings with Alexa
Amazon Alexa, cooking together
Echo Show; shopping lists
Download our instruction manuals below for linking your smart appliances with the Home Connect app.