Another year, another decade! Welcome to 2020.
The Awards
This year was our 5th anniversary since opening the showroom back in 2014 and to start the year off Counter Interiors were nominated for 5 of the NEFF MasterPartner Awards, held at the luxurious O2 Continental in London. Kitchen showrooms from around the country were represented by their respective directors and favoured employees anxiously awaiting the results whilst enjoying cocktails, canapés and a champagne dinner. We are proud to say that our kitchen showroom, tucked away in the middle of Clifton Moor in York was awarded Best Showroom and Best Advertising & Social Media. We were also awarded the Best Kitchen Design Under £25,000, which goes to show, you don't have to spend a fortune to bring your dream interior to life.
The second set of nominations were again for Best Kitchen Showroom, this time for the Bathroom & Kitchen Update Magazine awards. The BKU Magazine is sent out to tradespeople and designers with information on new products and developments in all things 'interior design'. Whilst we didn't win the final award, we did make it to the voting stage and were immensely proud to have been nominated.
Keeping the awards flowing, we made Consentino's Honours List for the 2nd year running. Each year 10 showrooms from around the UK are selected based on their high quality displays as well as their product knowledge and customer service.
You can see a full list of accolades on our awards page.
The Releases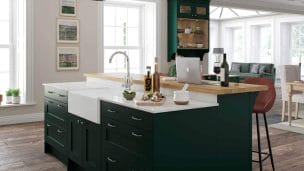 2019 was a great year for innovation and design inspiration with our suppliers bringing exciting new offerings to the market. Starting with our premium kitchen supplier, Masterclass Kitchens revealed their annual product release with some exciting colours new storage options, classic styling and open plan living solutions. You can read the full release here.
Quooker have also had a busy year of innovation. New colours across the range with Matte Black now available for all the modern style taps. Quooker also released their Classic style taps which are available in the usual chrome and stainless finishes as well as a traditional nickel finish. Also now available is the Quooker Cube, this extends the functionality of your boiling water tap to enable it to dispense chilled, filtered and sparkling water alongside the hot, cold and boiling options.
The Events
Each year we like to hold two demonstration days in the showroom. This gives you a unique opportunity to see NEFF appliances in use by a professional home economist with plenty of chances to ask questions, take notes and taste delicious samples throughout the day. Our demonstration days have proven to be very popular, make sure you sign up to the Demo Day Newsletter. You'll receive a set of exclusive recipe cards as well as hints, tips and offers. It's well worth dropping in for an hour or make a day of it.
As well as our showroom demonstrations, 2019 saw Counter Interiors heading up a large stand over at CountryFile Live 2019. Two events hosted by the BBC set in the stunning grounds of both Blenheim Palace, Oxford and Castle Howard, York. The two events were held over the Summer holidays and were a great success, eight days of Countryside inspired living with everything from sheep herding to chainsaw championships and of course; great food. In association with NEFF, Counter Interiors hosted a cookery demonstration stand running eight demonstrations a day, each with three recipes, a total of 96 bakes in 4 days! If there was any ever doubt about the capabilities of our ovens, events like these perfectly demonstrate the possibilities.
The Offers
We have a couple of dedicated posts for the offers we currently have on. Some offers only run during the demo days, to read in more detail visit the links in the following details.
Our Demo Day appliance and accessories offers include:
For a very special offer visit the post below. The first 10 customers for 2020 will have the opportunity to book our Home Economist who will come out to your home once your appliances are installed to give you an in-home demonstration. This very special offer completes your new kitchen installation perfectly, the professionally cooked meal and bubbly will make the stress of renovating all the more worthwhile. Avoid pitfalls or novice mistakes and jump straight in to creating your favourite dishes.
To take advantage of the offers listed above, make sure you attend our Demonstration Day. We've left you a couple of handy buttons above to add the date to your calendars.
We hope you'll join us on the 18th January 2020 as we kick off the new decade with great food, great offers and our range of premium products. You'll find our showroom on Clifton Moor in York between Evan Halshaw and Fitness First. Use YO30 4RA for sat navs or ring us on 01904479792.