At Counter Interiors we offer both British and German built kitchens, but what makes them different?
When first looking for a new kitchen, the first thing most people search for is "German Kitchens". We've come to recognise that Made in Germany equates to well built and lost lasting products. Precision engineering, organised and efficient, the German manufacturing sector has been a shining example of how to build stuff. Whilst this is certainly true of their cars and appliances, how do they stack up against the Great British Kitchen? In this post we'll be looking beyond the cupboard door and seeing what sets our two manufacturers apart.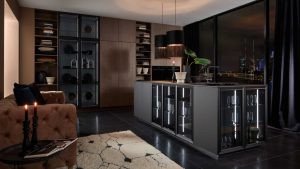 At Counter Interiors we work with two kitchen manufacturers, one British and one German. Both are premium, made to order products featuring solid wood doors, hand painted colours and nifty little design features which reflect their mid to high end price brackets. Both have features the other does not, both offer high quality kitchen furniture in a vast array of colours and textures. Representing Britain we have Masterclass Kitchens, a multi award winning kitchen company from Wales and for Germany we have their favourite kitchen brand as voted for by the German public 3 years running; Nolte Küchen.
So… let's start with the doors.
Doors
The Germans have a style and it's called Bauhaus. You will know it because you've all seen it; but what exactly is Bauhaus? Simply put it is an artistic style based on simple geometric shapes, usually squares or rectangles with very little elaboration. This unfussy style is very typical of what we have come to expect from the German market, however its roots lie in the British/American Shaker style which first came about in the mid 1700's. The simple utilitarian style became immensely popular, drawing in aspiring designers from around the globe. As a result most doors in a German style kitchen are slabs, Nolte currently offer three framed doors for a more country style kitchen however they still retain that Germanic preciseness.
The British have a long standing love affair with carpentry and carpenters often show off their skills with little adornments or trademarks. This produced recognisable styles which gave pieces personality such as those created by Robert Thompson, aka Mouseman during the early/mid 1900's. Mouseman inspired other Yorkshire carpenters who mimicked his style with various animals appearing on finished furniture incorporating anything from squirrels to seahorses.
This love for intricate details and a hand made feel means our beloved British kitchens come in a wide variety of styles with Traditional and Shaker kitchens being two of our most popular. The 'Hand Made British Kitchen' is still thriving in the UK, the rustic farmhouse, upcycled shabby chic look remains as relevant as ever.
Popularised by shows such as The Great British Bake Off their pastel coloured Shaker islands and timber worktops have captured the imagination of every viewer. Add in a couple of Retro 50's Smeg appliances to distract from the super modern Quooker taps and NEFF Slide&Hide ovens and you have the perfect traditional kitchen without the traditional nightmares. We'll be looking at putting together the perfect Bake Off kitchen in an upcoming post, so keep an eye out for that.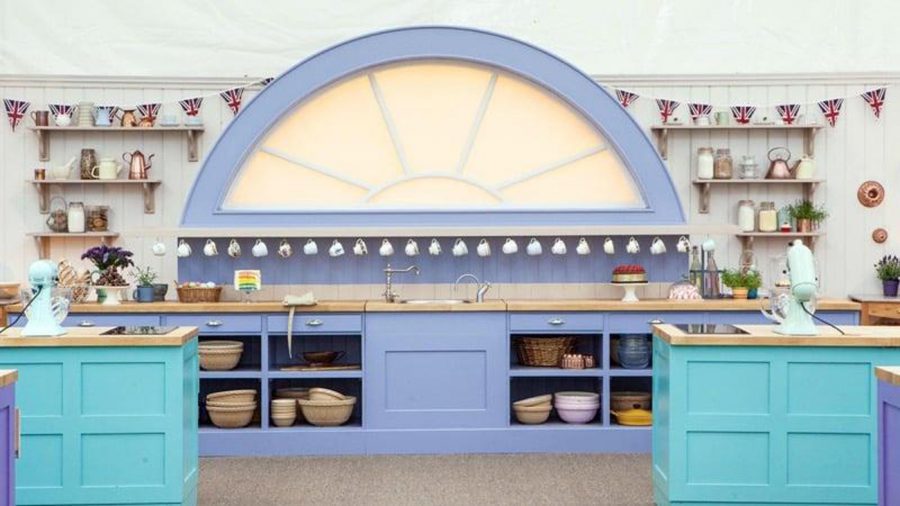 The Units
The two different countries have slightly different approaches when it comes to constructing the cabinetry. All our furniture from both manufacturers are supplied 'rigid-built' straight from the factory however with slight differences. The British use 18mm panels all round to create a very solid and sturdy unit. Remove any of these panels and your box becomes unstable. Look over at the German cabinets and they also use 18mm panels on the sides but the panel at the back is a very slim board, however, remove the back panel from a German cabinet and the unit retains it rigidity due to the difference in it's construction.
Once in place, neither really has an advantage over the other. Nolte ship kitchens from their warehouse in Germany to retailers all across Europe, we imagine reducing the weight of every back panel would save on their shipping costs considerably!
The Style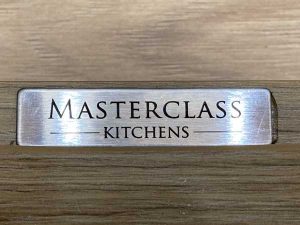 At Counter Interiors we showcase the best of British, Masterclass Kitchens. Branding themselves as "Quintessentially British", their farmhouse origins are plain to see across the entire range. Natural textures, attention to aesthetic details and a hand crafted look makes every Masterclass Kitchen truly unique.
The Great British Baking army are in love with all things quaint, dreams of herb gardens and veggie plots feature highly in this culinarians wish list. Soft colours, open shelving and a hand crafted look lifted straight from a Beatrix Potter novel, every part of the kitchen has been given attention, including behind the door. This is where Masterclass Kitchens have excelled, a kitchen is not just for your guests to admire, it is for you to enjoy for many years. Open any drawer or pull out style unit in a Masterclass Kitchen and you'll find matching timber interiors. Gone are the chrome pull outs and generic glass sided drawer boxes in favour of a hand made, bespoke style complete with their own stylish branding. Expanding on the timber theme are their new crate drawers, wine display cabinets and worktops. You can view all the features that make Masterclass unique here .
So if the British are all about the handmade look, what about Nolte Küchen and the German design ethos. Everything is very precise and that's not to say Masterclass Kitchens aren't built to tolerances, however the different finish you get when moving from a hand built timber style to a precise machine made style is night and day.
Nolte's textures and finishes are more aligned with your industrial loft style of kitchen, metal textures, doors and accessories are liberally applied across the ranges. The other immediate visual difference is the drama, a Nolte Küchen will bring a bold look into your space, extra tall 900mm cabinets create impressive islands that appear to float due to their ultra low plinths. The Nolte Neo range takes the statement one step further by adding mirror, eroded and even graffiti doors. If you're looking for a modern dramatic style you can't go wrong with Nolte, they're certainly not shy at pushing boundaries. The 32% extra deep drawers combined with the 20% extra tall cabinets not only give you a vast amount of storage space, but also a monolith of a kitchen island on which your slab of Dekton or Silestone will afford you all the preparation space you could ever need.
Behind the drama and foreboding impressiveness lie some subtle little features. Take for instance the dust seals that run around every door, not only do they keep your cupboards free of dust but they also act as silencers when closing the doors. Metal feet for the plinths prevent scratches and scuffs over time and a unique 150mm grid system lines up every drawer, cupboard and appliance perfectly.
You can explore more of what makes Nolte Küchen special here.
Both manufacturers approach their solutions slightly differently and both supply stunning kitchen furniture. With Nolte you get more textures and finishes, with Masterclass you get the handmade look. There is rarely a huge price difference so it just comes down to your preference on style and whether you want a machine made, sharp and dramatic style or a softer hand crafted look?
Visit our kitchen showroom on Clifton Moor where we have both Masterclass Kitchens and Nolte Küchen spread across two showrooms. We're also hoping to restart our cookery demonstrations again this year, so keep an eye out on our social channel for news of when those will be running. We aim to have a very special event to welcome everyone back so stay tuned!